When I was younger and even now at the age of 52 I have loved the FABULOUS FABLES of Aesop. Below is the fable of The Quack Toad. The character in this fable reminds me so much of the current occupant of The White House in the United States. That individual is so adept at telling such fabulously, fabulated way of how they see themselves, our country, our allies and even our enemies. It amazes me that this man is still in office. This individual loves to tell everyone how all of the good things going on in the U.S. are because of him and only him, but yet has never taken responsibility for all of the horrific divisiveness that is taking place in our country!! During his campaign he really sounded like the quack toad with all of his rhetoric about "Make America Great Again" – by the way, Ronald Reagan he is not and Reagan was the first presidential candidate to use that slogan with a whole lot more finesse back in 1979-80!!!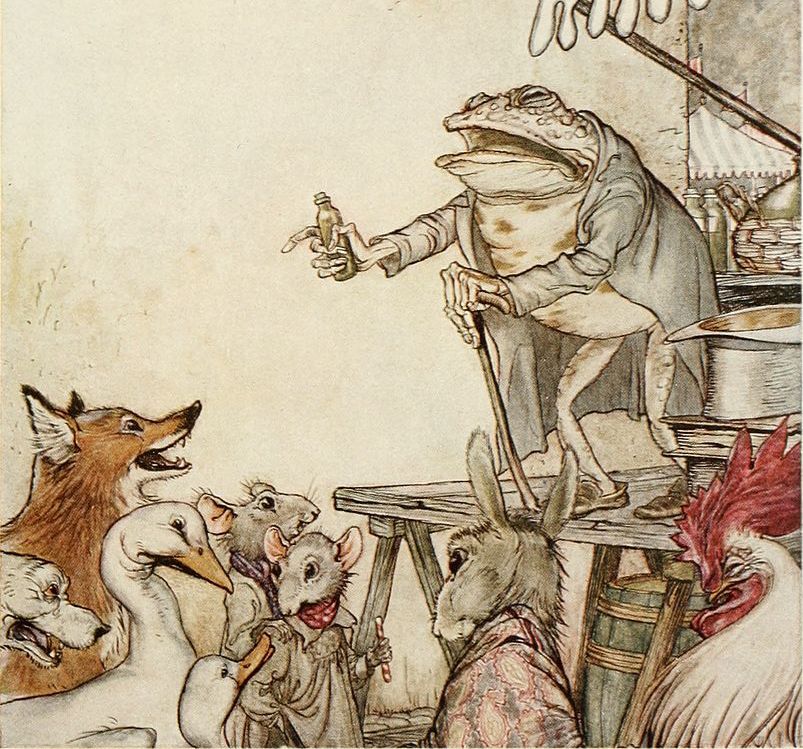 The Quack Toad Story – Aesop
An old Toad once informed all his neighbors that he was a learned doctor. In fact he could cure anything. The Fox heard the news and hurried to see the Toad. He looked the Toad over very carefully.
"Mr. Toad," he said, "I've been told that you cure anything! But just take a look at yourself, and then try some of your own medicine. If you can cure yourself of that blotchy skin and that rheumatic gait, someone might believe you. Otherwise, I should advise you to try some other profession."
For your enjoyment if you are not familiar with the Aesop's Fables I wanted to share a free Google book with you.
That's what's in "My Rattled Cage", thanks for stopping by!!!